Introduction
Castelluccio di Norcia is a small village, that lies in the "Parco nazionale dei Monti Sibillini" in the Umbria region, and with its 1400 metres above the sea is one of the highest in the Appennini. The historical centre is placed on the top of a hill, in the middle of a tableland bearing the same name, very wide, where the famous lentils are coltivated.
It is the blooming of the latter, with other kind of flowers, that offer between the end of May and the beginning of June a truly unique sight.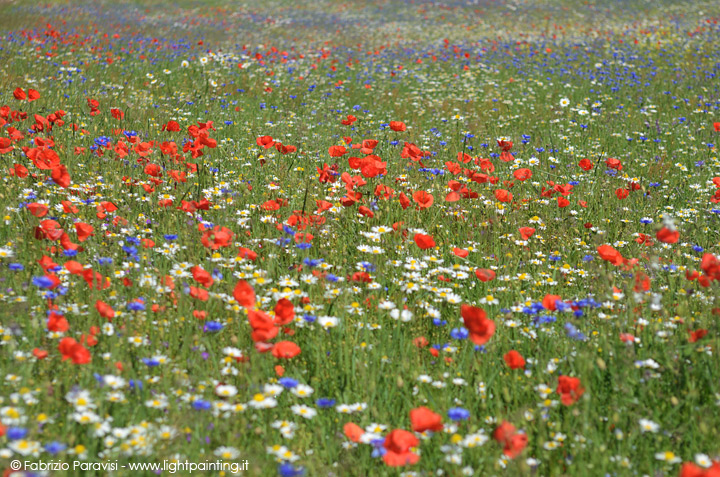 A mix of flowers on the plateau of Castelluccio
When to go
The blooming occurs mainly between May and July, but there is not a precise period because it all depends on the climate conditions. There is not even a peak, but it is a succession of blossomings of different species: daffodils, poppies, violets, gentianellas, lentils and many others. My advice is to check the blooming on websites listed below, as there are new photos pubblished every week.
If possible avoid Sundays, because the place is packed with tourists, almost unlivable I would say!

www.castellucciodinorcia.it
www.castellucciodinorcia.eu

Where to sleep
Sleeping at Norcia is probably the best and comfortable choice, as there are many farm holidays and restaurants, and Castelluccio is in reach in half an hour drive by car. If you really want to stay at Castelluccio there are some "agriturismi" (farm holiday) in the historical centre and a few mountain lodges along the road to Norcia. The latters are suitable for people who wants to hike or mountainbiking, along the numerous paths of the Monti Sibillini.

Mountain lodges:
www.monteprata.it
www.rifugiocollelecese.it

List of "Farm holidays":
www.castellucciodinorcia.it
Itinerary
The purpose for 2013 was to photograph the three most photographed bloomings in Europe: the tulips in Holland, lentils in Castelluccio di Norcia and the lavender in Provence (France) listed in chronological order of flowering. The tulips approximately bloom in March/April, the lentils in May/June and the lavender in June/July.
Because of my commitments I gave up to the blooming of tulips, so my first stage has been Umbria.
Have you got any suggestions or updates?
If you have updates about services, costs, or other useful informations SEND ME AN E-MAIL!